Top-Rated Lunch Catering Company Near Northville MI
Choose Elite Catering For All Your Lunch Catering Needs In Northville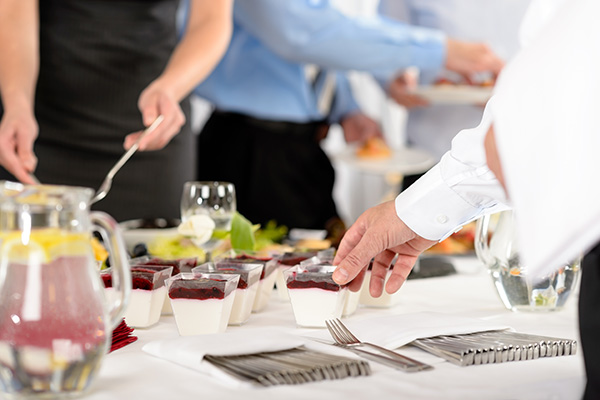 We know that planning an event can be stressful, which is why we offer custom menu planning, full-service options and a completely worry-free guarantee; you can focus on your guests and count on us for the incredible food!
We offer carry out or delivery services on the day of your event in order to best fit your schedule. You can always expect your order to be correct, hot and ready to go when you are. If we deliver your order, we will work with your venue to optimize space and create an appealing display. Nothing is more important to us than making sure your event is flawlessly executed, and we will always go the extra mile for you.
With over 30 years of experience as a licensed caterer, and with a highly-trained culinary school graduate heading the kitchen, Elite Catering is a reliable and delicious choice for all your catering and dining service needs!
---
Lunch Catering For Any Event!
Sandwiches and Lunch Options
*Minimum 25 Guests$8.95 Per Guest
Roasted Vegetable Wrap with a Red Pepper Hummus
Smoked Turkey with fresh asparagus, red onion, and an avocado spread on a baguette
Tuna Salad Sandwich with capers, red onion, lemon, and fresh parsley on a crunchy ciabatta
Ham and Swiss on a Croissant with a grain mustard aioli
Deli Roast Beef with swiss and horsey sauce on a multi-grain baguette
Michigan Chicken Salad Croissant with cranberries, red onion, and celery
Bistro Chicken with roasted red peppers, caramelized onion, and a bacon jelly on a crunchy ciabatta
Meatloaf with a roasted red pepper and horseradish mayonnaise on focaccia
Salmon BLT maple glazed salmon, hickory smoked bacon, lettuce, and tomato with a pesto aioli on a baguette ($9.95)
All sandwiches served with dessert (cookie or brownie) and your choice of pasta salad, mixed fruit, potato salad or chips. Foam plate, disposable flatware and napkins are an additional $ 1.50 per guest.

---
Salads - Perfect With Lunch or Dinner!
$8.95 Per Guest
Chef's Salad - Strips of turkey, ham, cheese, lettuce, tomato, cucumber, hard boiled egg
Chicken Salad - Mixed greens, cucumber, tomato, garlic croustades, hard boiled egg
Lite and Fit Salad - Fresh mixed greens, grilled chicken, apples, toasted walnuts, almonds, fresh berries, citrus vinaigrette
Cobb Salad - Fresh mixed greens, chicken, avocado, bacon, Bleu cheese, onion, and brown derby vinaigrette or choice of dressing
---
Soup Available With Our Lunch Catering Packages
$2.50 Per Guest Includes disposable bowls, spoons and napkins.
Roasted Chicken Noodle
French Onion
Broccoli Cheddar
Tomato Pesto
Gazpacho
---

---
Let's Not Forget Desert! A Perfect Addition to Any Lunch Catering Package!
| | |
| --- | --- |
| House Baked Cookies | $1.50 each |
| Fudge or Carmel Brownies | $1.50 each |
| Lemon Bars | $1.50 each |
| Rice Krispy Squares | $1.50 each |
| Apple Strudel | $2.00 each |
| Roma Cannoli | $2.25 each |
| Saunder's Cream Puff | $2.95 each |
| | |
| --- | --- |
| Assorted Miniatures: mini pie fruit tarts, 3 berry squares, turtle brownie bites, lemon bars, magic cookie bars, and mini cannolis 's | $5.50 per guest |
| | |
| --- | --- |
| Chocolate Dipped Strawberries | $4.00 per guest |
| New York Cheesecake w/Strawberries | $2.75 per guest |
| Strawberry Shortcake | $2.50 per guest |
| Pumpkin Bread Pudding w/ vanilla cream sauce | $2.95 per guest |
| | |
| --- | --- |
| Assorted Single Shot Desserts: Black Forest, Turtle Sundae, Cookie Sundae, and Pineapple Upside Down | $4.50 per guest |
| | |
| --- | --- |
| Sheet Cakes: Choice of batter, split layer with fruit (choice of strawberry, raspberry or lemon) and buttercream frosting, decorated for the occasion with a personalized message or theme | |
| Full sheet cake serves 80-90 guests | $150.00 |
| Half sheet cake serves 25-40 guests | $85.00 |
| | |
| --- | --- |
| Black Forest Sheet Cake with strawberries and puff pastry | |
| Full sheet cake | $180.00 |
| Half sheet cake | $90.00 |
| | |
| --- | --- |
| Split Layer Sheet Cake | |
| Full sheet cake | $160.00 |
| Half sheet cake | $90.00 |
| | |
| --- | --- |
| Pies: Apple, Pecan, Pumpkin, Sweet Potato, Cherry | $1.75 per guest |
* Minimum 25 Guests
---
Reviews:
Elite Catering did a great job! Everybody loved the coney and burger bar. It's tough to find a place that will provide a great experience for this large of a group. Highly recommended. Kelly S. 2017
---
First and foremost I want to thank Elite Catering for providing myself and my guests with exceptional service. They were always prompt and available if I had any questions or concerns. They went above and beyond to cater to my hectic work schedule and actually bring samples of the food I was interested in to my office. They even went as far as to change their menu to accomplish the goals I had for my event, as well as making sure they were able to accomplish my budget. I am so thankful for the hard work the staff at Elite did to make sure my day way special. Taryn 2016 (Wedding at Noah's Event Venue)
---
For the best lunch catering company in the Northville area, contact Elite Catering! We cater to most any event throughout Southeast Michigan.