Expert Wedding Caterers In Oakland County MI
Choose Elite Catering To Make Your Wedding Elegant in Oakland County MI!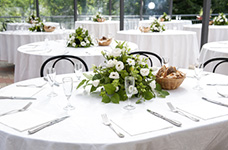 Elite Catering is fully licensed and insured with over 30 years of experience in the most detail-oriented industry, and can help with all your wedding caterers needs! We know how important a wedding's food is to guests, and we are reputable for being the best in the business. Rest assured that your guests will be raving about their meals until your next event with us!
Our experienced staff is fluent in the art of fine dining and is able to effortlessly communicate this into any sized event. From small, elegant celebrations to grand luxury galas, we strive to make your big day truly unforgettable! Our top-rated wedding packages include buffets, plated meals and family-style meals for each and every bride's budget. You'll feel as if you're eating a home-cooked meal with a hundred of your closest guests!
An event's food sets the tone of any gathering, and our exceptional recipes can be trusted to provide an amazing experience for each and every one of your guests. Whether it be a small luncheon or an intricate dinner experience, we have the menu and services that you need!

---
We Can Help With All Your Wedding Caterers Needs!
We work closely with you to help decide which one of our packages would best fit your wedding, and from there create a delicious menu. Our locally-renowned chefs take your vision and their expertise, thus crafting a meal with endless culinary possibilities. We are also able to provide vegetarian, vegan and gluten-free meals and accommodate many other dietary restrictions. We are LGBT friendly and enjoy the opportunity to help all couples celebrate their expression of love and commitment by providing excellent service and dining options.
Whether you dream of a rustic barn wedding or an extravagant fairytale celebration, we aspire to bring your vision to life. Our professional chefs and staff will seamlessly execute your wedding reception, making it a stress and worry-free day for you!
Wedding Buffet Menusplay_arrow Plated Dinner Menuplay_arrow Family Style Menuplay_arrow Strolling Weddings Menuplay_arrow
---
See What Others Are Saying:
Elite Catering did a great job! Everybody loved the coney and burger bar. It's tough to find a place that will provide a great experience for this large of a group. Highly recommended. Kelly S. 2017
---
Everything was wonderful! Your staff was very professional and friendly and we really enjoyed the food. Sydney 2016
---
Elite Catering is the #1 wedding caterers company throughout the Oakland County MI area, so contact us to make your wedding memorable!