Livonia's Top-Rated Catering Company Serving All of Metro Detroit
From the beginning of your event to the very end, Elite Catering Company will make sure that your occasion is one to remember.
With different levels of service for every type of local event, we carefully craft a menu that will have all of your guests raving for weeks to come. Our top-rated staff has been cooking up and serving delectable food in Southeast Michigan for over 30 years, and have been doing so in a variety of different scenarios. Take a look at our services below to see how we would best fit into your event's itinerary.
What We Do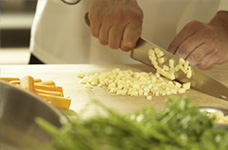 An event's food sets the tone of any gathering, and our exceptional recipes can be trusted to provide an amazing experience for each and every one of your guests. Whether it be a small luncheon or an intricate dinner experience, we have the menu and services that you need!
Our staff is very flexible, as we know how important it is to keep your business afloat while planning an event. We will guide you through planning your own customized menu, and from there will pass your choices along to one of our renowned chefs to create a unique dining experience. We offer tastings at our showroom, and will even deliver tastings if needed. If you're in a bit of a time crunch to plan your event's menu with one of our staff members, we offer a convenient online ordering system. All of our recipes are favorites of locals, so you can't go wrong!
We offer carry out or delivery services on the day of your event in order to best fit your schedule. You can always expect your order to be correct, hot and ready to go when you are. If we deliver your order, we will work with your venue to optimize space and create an appealing display. Nothing is more important to us than making sure your event is flawlessly executed, and we will always go the extra mile for you.
---

Carry Out
We strive to be a catering company that fits into your schedule. After we work with you to carefully plan a menu in advance, you have the option to pick up your meals in disposable containers the day of your event. Simply let us know what time works best for you and we will have your order hot and ready to go.
Delivery & Setup
We work with you from the very beginning of your event-planning journey to develop a menu that you and your guests are sure to love. The day of your event, entrées and accompaniments are dropped off hot in easy cleanup (or storage) containers. We also offer setup and servicing options to help you out before your event begins. Let us take care of the food while you attend to any last-minute details that are sure to arise.
---
Where Delicious Food, a Professional Staff and Your Vision Come Together to Create the Perfect Event
Our Full-Service Package Includes:
Professional Waitstaff


Staff provided for event set up, food servicing, cleanup, and breakdown of equipment

All Equipment Needed for Servicing
Chafing Dishes, Linens and Decorations for Buffet Table
Cake Cutting
Upscale Disposables for Cake or Dessert Service
Personalized Head Table Service
(Subject to a service fee.)
---
Give us a call today and let our sales staff assist you in determining what type of service would best fit your event's needs!